Oregon Certified Roofing Experts
7 day a week emergency repair service
Stutzman and Kropf Contractors have earned certification for and can offer warranties for the following roof repair and replacement products and services:
CertainTeed – Master Shingle Applicator – Offering Four and Five Star Lifetime Warranty Installations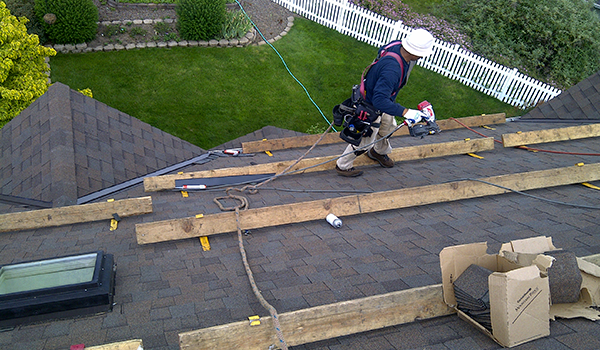 CertainTeed developed credential programs for residential and low-slope roofing contractors to help them with each aspect of their business. They know that different contractors have different business needs. Their credential programs reflect this diversity, with programs for companies that focus on installation expertise.
We have earned the Master Shingle Applicator Certification through CertainTeed. CertainTeed provides education in every aspect of shingle installation techniques, and the approved procedures for installing all CertainTeed shingles. The program covers topics such as good workmanship practices, roof systems, estimating, flashing, ventilation, and product installation instructions for all of CertainTeed's shingle products.
IKO – IKO Shield Pro Plus Certified Applicator – Offering Limited Lifetime Warranties
IKO is a family owned company that has been committed to manufacturing quality residential and commercial roofing products since 1951. IKO has credentialed only the top roofing installers who have a long history of high quality workmanship and customer satisfaction.
Stutzman & Kropf Contractors has been certified as a Shield Pro Plus applicator and spent many hours in partnership with IKO at their manufacturing facility in Sumas, WA. to train and understand a fully integrated system and installation processes.
We can offer 20 Year Non Pro-Rated warranties for a full IKO system.
GAF – Certified System Plus Installers – Offering System Plus Lifetime Warranties
To become a factory-certified GAF System Plus roofing contractor, Stutzman and Kropf Contractors had to show that we are:
Fully licensed by our state to perform roofing work.
Adequately insured for your protection.
Have a proven reputation for providing quality roofing services throughout the community.
Committed to ongoing professional training to ensure quality installation.
Because of GAF's stringent standards, only the top roofing contractors have qualified as System Plus contractors!
Choosing a GAF System Plus contractor is your assurance that you'll be dealing with a quality, reputable, and dependable professional contractor – not some "fly-by-nighter."
Owens Corning – Preferred Contractor – Offering Limited Lifetime Warranties
Owens Corning Roofing Preferred Contractors are selected by invitation from the Owens Corning Roofing Contractor Network for their commitment to service, reliability and unparalleled craftsmanship.